Visit https://podnews.net/update/liar for all the links, and to get our newsletter.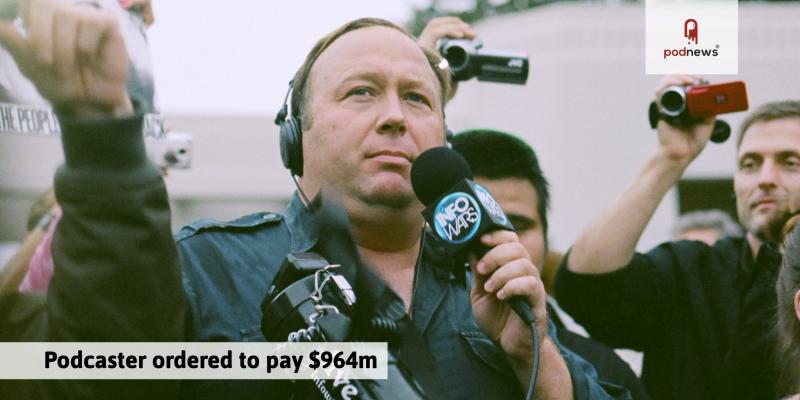 Can you help us grow? So far in October, we've welcomed 293 new subscribers from companies like Spotify, NPR, Pandora, Nova Entertainment, the Washington Post, TED, the BBC and Veritone. At the time of writing, we're on 24,963 subscribers. We'd quite like to be 25,000 by the end of this week, because that's a nicer number. Can you help by mentioning us on your favourite social networking platform, or telling your colleagues? We'll be your friend for life.
---
Classifieds – your job or ad here
Subscribe to The Newcastle Witches Podcast Today! — We are The Newcastle Witches. We are on a journey to uncover how these murders took place, investigating what caused people to hunt and murder innocents in the name of Witchcraft.
FOR SALE: PODCAST STARTUP & PODCAST ASSETS — 120k monthly unique website visitors | iOS podcast player | Individual popularity & best episodes of a 1mil+ podcast | 300k+ guest appearance profiles | EMAIL ME: mel@owltail.com
Business & Legal Fundamentals For Podcast Growth & — What if getting the "legal stuff" for your podcast was fast, easy and do-it-yourself-able?
Join The Podcast Lawyer™ Gordon Firemark for this free online workshop. August 16th 9am PDT
Join WITF Productions' Digital Team — WITF is seeking a Digital Creative Director to guide the creation and design of original content for our new digital strategy. Apply today!
---
Thank you to Paramount, reaching more than 4.3 billion people across more than 180 countries, for becoming our latest gold supporter today. We're grateful for your support. (You can be like them!)
Focus
If you work in podcasting—or call the shots on your own podcast—you'll benefit from this full day of specialist panels, stage sessions and keynote speakers. All included for $55.
Oh, and the networking. The heartbeat of a podcasting event!
Discussion points include the future of podcasting and…
Gen Z
in-car listening
getting discovered
the value of ad tech
'how to' on podcast networks
and spotlights on creators who do it differently
10am – 5pm, Wednesday 19th October. Hosted at Javits Center in New York. Learn more and buy your tickets to Podcast Futures today
People
Fyona Smith, formerly Head of Radio & Podcasting for AFTRS, is moving to Ireland to be Managing Editor for Today FM.
Tips and Tricks
Podcast News
Podcast ads (kind of) in the wild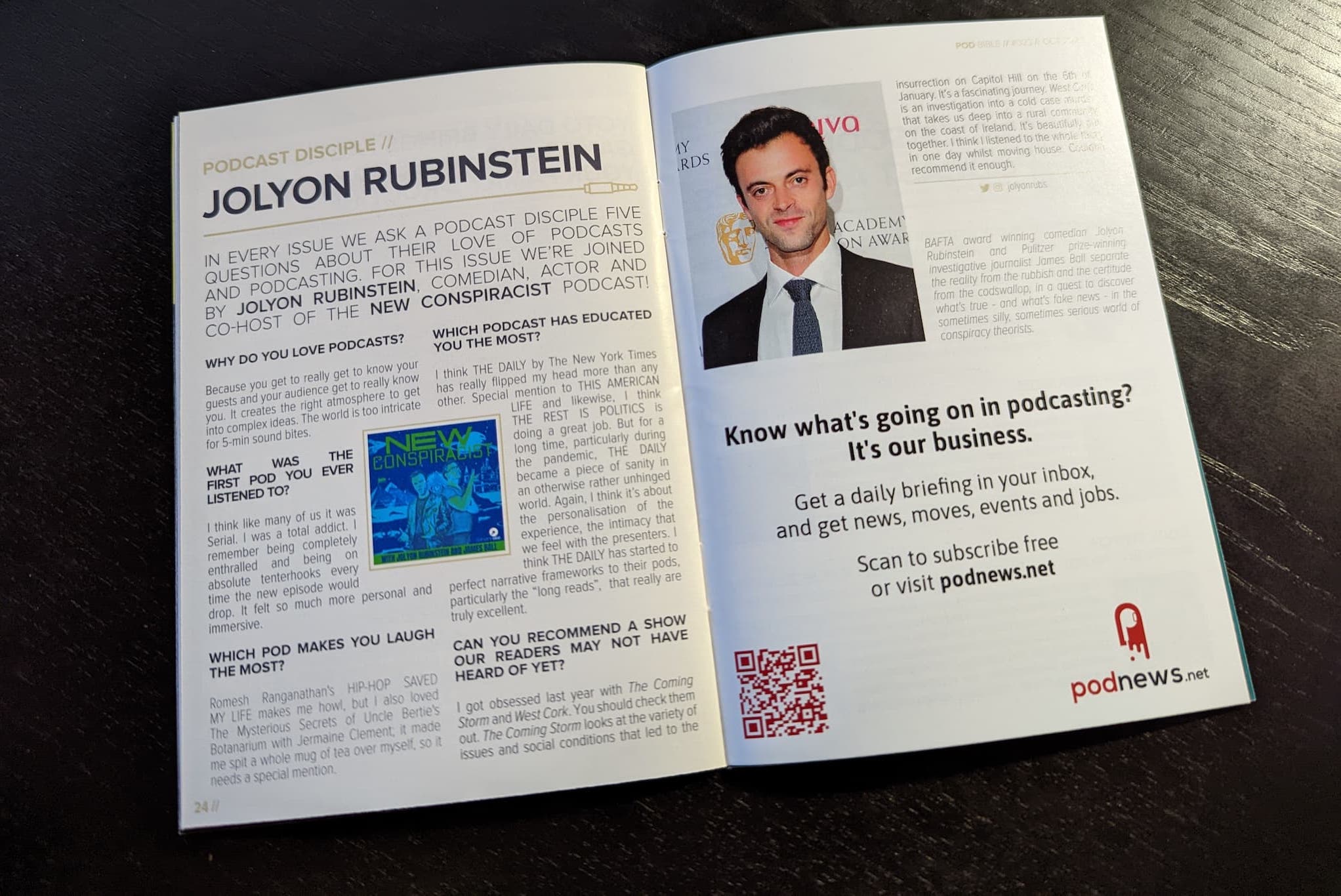 Pod Bible magazine issue #23 (read it here) has a very excellent page 25. Sponsored by Audible and Acast, it's 36 pages of excellent podcasts, and half a page of hastily laid-out advertisement for your favourite daily podcast newsletter.
Gold supporters: Buzzsprout, Mowpod, Mamamia, Resonate Recordings, PodOps, SALT, audioBoom, Cohost, Simplecast, Callin, Paramount, Podvine, Riverside.fm, Jar Audio, Spreaker, Podchaser, Awesound, The Roost, Knit, Evergreen Podcasts, TED Audio Collective, Podpage websites, We Edit Podcasts, Disctopia, Knucklehead Media Group, Luminary, Acast, Podmetrics, Megaphone, One of One Productions Podcast S, Focusrite, LWC Studios, ElasticPod, Engle, ART19, Podbean, Adonde Media
Silver supporters: Storic Media, Veritonic, Podcode, Storyboard, Jonekiri, Rococo Punch, Cloud10, Osiris Media, Gumball, Terra Firma Audio, Polymash, Omny Studio, Message Heard, SoundMedia, Bullhorn, Podscribe, Health Podcast Network, Julep Hosting, Julep Podcast Marketing, Podcastpage, Castos, Cleanvoice, Lemonada Media, Ossa Collective, Maps.fm, RockWater Industries, Optimal Living Daily, matchmaker.fm, SPI, Heartcast Media50, Castbox, Whooshkaa, Pacific Content, Sonic Influencer Marketing, Blubrry, Notetracks, Podcast Taxi, Diversion Podcasts, Hindenburg, NPR, Wondery, Podcast Ad Report, The Podcast Engineer, Latina Podcasters Network, Headliner, Rephonic, Oxford Road, Glisten Media Podcast Production, Zvook, Jam Street Media, Transistor, Kast Media, Transmitter Media, 18sixty, Double Elvis Productions, Barevalue, Podcast Guests, Bababam, Know or Not? Podcast Network, StreamGuys, Ad Results Media, Chartable, EverythingWithPodcasting, Content10x, Podcast Partnership, Rachel Corbett\s Podschool, DAX, She Podcasts, Cleanfeed, Stakhanov, <a href="http://www.schoolofpodcasting.com/podnews?utm_